Pevonia Botanica is a worldwide leader in the skincare industry. The first line to establish themselves among elite professionals, Pevonia uses only safe, natural, effective ingredients. American Skin Care is proud to work with such a renowned skincare line. We offer a variety of Pevonia products and treatments catered to your individual needs.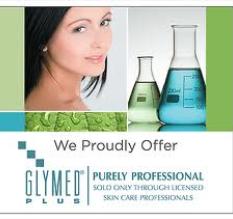 Glymed Plus is a renowned leader in the skincare industry. Their products combine technologically advanced ingredients with certified botanicals to produce amazing results. American Skin Care offers a wide range of Glymed products and treatments.
One Hour - $85
The American Facial uses an infra-ray heat mask which delivers heat through the layers of the skin to facilitate deep pore cleansing. This facial also includes a galvanic mask which penetrates product into to the skin for optimal hydration and effectiveness.
One Hour 15 Minutes - $125
The Deluxe Facial includes an enzyme exfoliating treatment which removes dead skin cells, revealing a healthier, more radiant looking skin.  This facial also includes a hydrating ampoule treatment filled with vitamins and minerals which helps to feed your skin and keeo it glowing.  Great for age-management and deeply clogged skins.
45 Minutes - $65
This facial teaches teens to properly care for their skin.  It includes a mild exfoliation treatment which helps to facilitate deep pore cleansing.
The enzyme peel is a professional exfoliating treatment that digests dead skin cells giving skin a smooth and radiant glow.
A vitamin serum that helps to hydrate, tighten and tone skin.  These "medicines" penetrate the skin leaving it healthy and glowing for up to three weeks.
The collagen blanket uses 100% freeze dried collagen to plump and firm the skin while leaving it radiant and glowing.  Great for special occasions.
Luminous "C" and Sea - $50
A treatment mask to reduce fine lines, strengthen skin's elasticity, counteract photo aging, and restore a youthful appearance.  Produces instant visible results.
Plantomar Lift Off Mask - $50
An effective treatment, soothing, healing, strengthening, and deeply hydrating to the skin.  Leaves skin tight, refreshed, vital and healthy with an exceptional glow.  
A deep exfoliating treatment that evens the skin's texture and improves elasticity.  Leaves skin feeling smooth and revitalized.
This exfoliating treatment will encourage cell renewal and reduce aging effects of environment, stress, and other lifestyle imbalances.
Combines the exfoliation and skin lightening power of 30% lactic acid with an active tyrosinaise inhibitor and skin calming herbal extracts. A superior exfoliant and treatment for hyperpigmentation.
Combines layers of alpha hodroxy, beta hydroxy, fruit enzymes and antioxidants leaving the skin fresh and glowing.
Chocolate Power Rescue Peel - $100
Combines Lactic Acid and the natural extracts of cocoa, resveratrol, and acai berry — powerful antioxidant rich polyphenols to deliver superior refining, anti-aging, and skin restorative benefits. This unique formulation influences collagen and glycosaminoglycans production. Natural polysaccharides also help reduce TEWL (Transepidermal Water Loss) and enhances AHA exfoliation without irritation.
Vitamin A Power Peel - $85
Provides a strong exfoliation and comedolysis as it stimulates new collagen production. This biologically stable combination of retinol, AHAs and TCA accelerates epidermal cell renewal and protein synthesis.
Achieve significant exfoliation with Intense Antioxidant Professional Exfoliator. This exclusive lactic acid formulation contains pumpkin enzyme, a super exfoliation accelerator and powerful anti-oxidant that retexturizes the skin and is enhanced with an active collagen inducing peptide. The addition of pomegranate extract makes this a superb peeling treatment, ideal for mature skin.
One Hour - $75
Relax and eliminate stress to balance the body and mind.  Using long strokes to reduce tension and unwind.
Series of 6 Massages - $378
One Hour - $75
Using a deeper pressure to eliminate muscular knots and discomfort, as well as pain management.  Trigger point therapy and muscle specific techniques to achieve best results.
​One Hour - $75
Can be used three months into pregnancy to ease the strain on your joints and stress on the body during this time.
Eyebrow - $20
Eyebrow Shaping or Tweezing - $25
Lip - $10
Chin - $15
Eyebrow and Lip - $30
Eyebrow, Lip, and Chin - $40
Full Arm - $60
Half Arm - $40
Underarm - $25
Bikini - $25+
Brazilian Bikini -  $65+
Full Leg - $85
Half Leg - $50
Full Leg and Bikini - $100+
Back Wax - $40+
Miscellaneous Patch - 10+
Prior to any waxing service, please inform your technician if you are on any prescription medication. Certain medications can make the skin more sensitive and vulnerable to lifting.  Waxing cannot be performed on any person using the following medication;
Accutane, Adapalene, Alustra, Avage, Differin, Isotretinoin, Renova, Retin A, Tazarac, Tazarotene, Tretinoin.
All Skin Care and Waxing Service Purchase 5 Get One Free